Phonebloks – A Stunning Innovation (Phone Idea)
Phonebloks –  A stunning innovation (phone idea): Now a phone that comes apart like a lego toys
 This Phoneblocks idea may or not work in the long run – but is clearly an 'out of box' idea that merits consideration. Very Likely software will be the biggest problem, as will be difficult to create a good OS that can cope with changing  hardware of the phone.
Phonebloks designed by Dutch designer Dave Hakkens, aims to negate the way people currently buy  and dispose electronics. Hakkens is of the view that  current consumer behaviors are  inherently wasteful. Whenever new devices comes out, old ones are tossed into the garbage or put on the shelf to collect dust. Hakkens wants to change this with a Lego-like device where parts of the phone only (not the entire device), can be replaced.
The smartphone design  has detachable components on its front and back so that everything from the processor to the camera can be easily upgraded without discarding the rest of the phone. The entire contraption is held together by a pegboard-style base, with a screen — also replaceable — mounted on the front.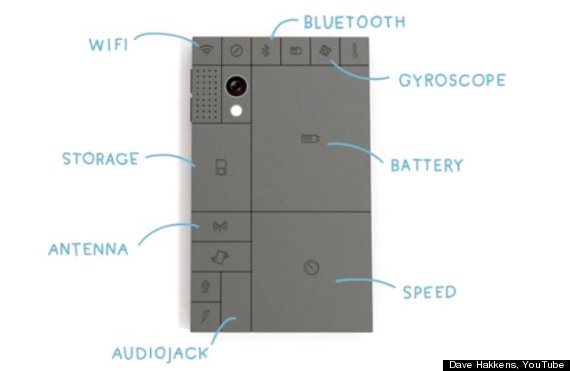 The backside of Hakkens' proposed phone.
There would be one block for the camera lens, one for the battery, one for storage and so on. Those blocks would plug into the base, and the blocks, base and screen would be secured together with two screws. Because individual blocks can be replaced when they become outdated or simply break, Hakkens thinks electronic waste can be drastically reduced with such a phone.
As Hakkens explains in his video outlining the device (below), the phone can be customized to your personal preferences. If you take a lot of pictures, pop in high-resolution camera. If you need a lot of storage for music, get a larger storage block. The hardware would be built on an open platform, so anyone can create their own blocks.
"Usually companies launch a product and consumers can buy it," Hakkens says. "I wanted to see if I could do it the other way around."   Truly a discontinuous approach and worth watching this space ahead……
---